Whidby's October Bridal Styles & Proposa...
Whidby's October Bridal Styles & Proposal Ideas
Posted on Wednesday, September 30th, 2020 at 3:38 pm by BEN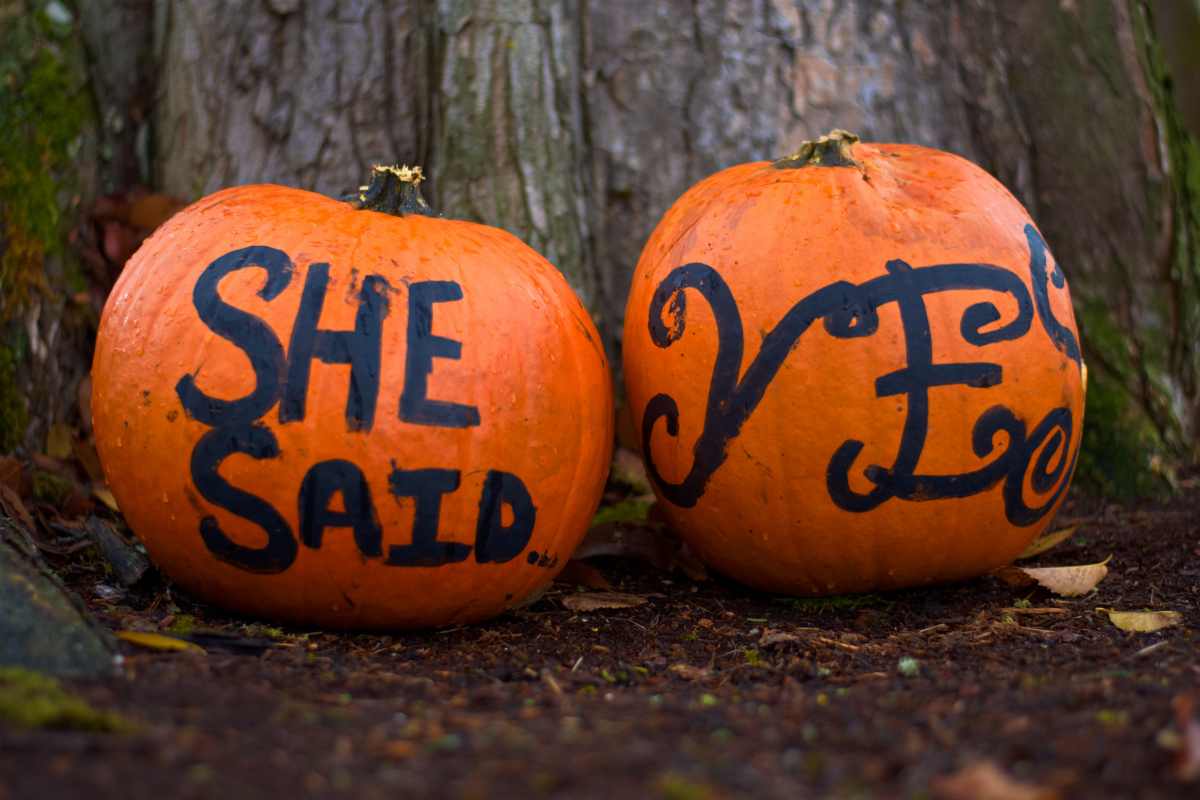 The air just started to get a slight chill, and it's getting a bit spooky outside. While one thing may be unconventional for one couple, it may be perfect for another. An engagement proposal doesn't have to be full of rainbows and sunshine. Sometimes proposing can be a little festive and with a little bit of a scare. For couples who are quirky or have had their costumes planned since 2019, proposing in October is a perfect time. Take a look at Whidby Jewelers' ideas for a chilling proposal!
Bring Out the Pumpkin
There is something wholesome and fun about carving a pumpkin together. Or, maybe your future bride just loves having them all over the house as soon as the season hits! A row of pumpkins can be all that you need to make this proposal perfect. Take your bride-to-be to a nearby pumpkin patch to pick out her pumpkin. Get creative and make sure that the pumpkins already have the words "Will-You-Marry-Me-?" all set and ready to go.
Or, make your proposal fun with a friendly pumpkin carving competition. After some excitement carving and smiling, have her close her eyes. Lead her to where your pumpkins are all laid out with the big question! A sweet and simple way to ask the big question will create a new tradition together. A more traditional October style proposal for the bride who loves a traditional ring like our Tiffany Engagement solitaire ring.

Dress Up!
October is the month to use your imagination and pretend to be something crazy, silly, cute, or just plain scary. Go all out this year with a couple's costume that she will love. Maybe, get scary with "The Bride of Chucky" theme or cute with "Gomez Addams and Morticia Addams." Then, it's time to have a photoshoot (black and white, of course!)
Take fun pictures together, and when she least expects it get down on one knee to pop the big question with an elegant princess cut diamond ring. Not only will it be sweet to have her reaction on camera, but it will be funny too while in costume! Make sure the ring stands out even more in these beautiful pictures with a Gabriel & Co semi-mount ring with enough diamonds to draw the eye.



Get Spooky
Halloween is a time to get the chills and thrills. Haunted houses are bound to be somewhere near you, but why not make your own? With the help of family and friends, turn your home into your very own spooky haunted house with a twist. Make the theme ways that your life will be "scary" without her. Have a room where you have no one to watch the big game with or one where you have no one to spend Valentine's day with. This will lead to the final room asking the big question as a "scary" step for you. If you and your future bride love the adventure that a haunted house takes you then you both probably love to get out in the world often. For that, a thicker band and a little bit more support on the center stone is best such as this Gabriel & Co ring. No need to worry about all the potential bumps that your ring might experience when you should be enjoying your time together.

Popping the big question can be nerve-wracking, so take advantage of the scary holiday season by coordinating a fun engagement proposal. Whether you would like to do something cute, scary, or fun, proposing is about doing something that your significant other will remember forever.
Whidby Jewelers is here for all your engagement ring and wedding band needs. Shop online or in our store with the peace of mind that we are there to assist you in all your engagement ring questions and concerns. Contact our jewelry store in Madison today for help with your ideal proposal! We can't wait to help you find the ring of her dreams, and get down on one knee!