The Top 4 Best Wedding Day Accessories
The Top 4 Best Wedding Day Accessories
Posted on Tuesday, October 8th, 2019 at 9:03 am by Ben
Here it comes... the day you have been waiting for! You have the perfect wedding dress, cake, and venue... but you aren't done just yet. The next step? The perfect wedding day jewelry accessories to add the final touch to your beautiful wedding day look. With an assortment of jewelry styles and jewelry designs, finding a place to start can be difficult, so here are some key things to keep in mind while shopping for your bridal jewelry.

To start with, you need to ask yourself this question: what do you need? Are you looking for some dainty diamond studs, a classic gold bangle, or a vintage pendant? Whidby Jewelers is here to help you find the specific bridal jewelry piece that you are looking for.

Something to remember while shopping: the dress is the star of the show; it is the ultimate attraction and you don't want to distract from it! Your wedding day jewelry should be there to compliment the dress; not the other way around. So, if you are considering wearing multiple stackable bracelets up both arms with a chunky statement necklace, you may want to reconsider. If you have a strapless dress, maybe consider an elegant diamond pendant such as this Lady's White 14 Kt Cluster Pendant. This wedding day jewelry piece will keep the focus on the dress while giving your look a little more sparkle.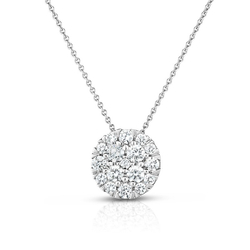 If you have a low scoop neckline, then a statement necklace could be the best bridal necklace for you. The Lady's White 14 Kt Eight Station Flower Pendant With 1.00Tw Round Brilliant Cut H/I Si2 Diamonds below. This luxury diamond necklace will rest beautifully on your chest as this type of dress draws a lot of attention to your neck, creating the ideal wedding day look.
Want a diamond bracelet to add to your picture-perfect look? Then you should absolutely have one! A gorgeous way to add a little color to your day, as well as accomplish that something blue jewelry piece, is a diamond sapphire bracelet! These sapphire diamond bracelets will brighten up your ensemble and include a little tradition.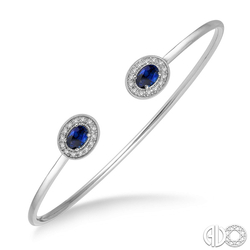 Another important piece to wear on your big day could be a fashion ring. A diamond fashion ring will accompany that stunning solitaire engagement ring (or any other diamond engagement ring) on your finger. Gold wedding bands, silver wedding bands, or even rose gold wedding bands are all wonderful choices as well and do not take away from the shine and glam of the engagement ring you are already wearing. These three ring styles are great choices to add to your everyday life and will complete your dream wedding look.
Need more bridal jewelry options? Visit us or make an appointment at Whidby Jewelers in Madison Georgia. We hope to see you soon!