5 Fabulous Fall Fashion Trends from Whidby...
5 Fabulous Fall Fashion Trends from Whidby Jewelers
Posted on Wednesday, September 9th, 2020 at 11:00 am by BEN
As we start to feel a few more of those colder nights, we realize that fall is fast approaching. Usually, that means that our wardrobe color palette is about to change to darker hues, but this also means that our accessories will vary as well. Bright colors and florals may have been all the rage this summer, but as the season beings to change, so do the jewelry styles that we begin to wear. Whidby Jewelers has exactly what you need to keep your style up to date, even if you are just now thinking of trying something new. Take a look at some of the fall trends to look out for this September:
Statement Earrings
Every decade has a comeback, and the '80s are no different. Include big earrings with different shapes and colors into your look to draw immediate attention. Starting with a staple of any 80's lady, there was the oversized hoop. Gold hoops blend perfectly with the autumn colors and can come off as subtle if you are not into louder pieces.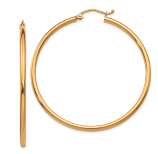 If you are ready to embrace the world of statement earrings, then we have those for you too! These lady yellow gold leaf over sterling rusty peacock large teardrop earrings have all the drama with a classic twist.
Pearls
We have seen this trend pop up a lot more this season, and it shows no intention of stopping. Draping yourself with pearls or even more subtle pearl accents has taken over runway shows, and many ladies have dawned more pearls. If you are not sure where to start, then a classic strand of pearls is the perfect place to begin. Just this strand of freshwater pearls will add a traditional glow to any style.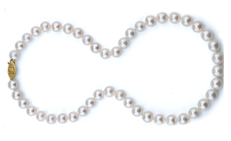 If you are interested in a more modern design with pearls, then statement pieces like this pearl ring will suit you nicely. It isn't about sticking with what your grandmother may have worn unless vintage is your style; you can still make it your own this fall with a modern take on a traditional look.

Big Gems
Bigger is better with this trend, and the more color, the more style. Don't shy away from something bright and bold when it comes to big gems. A citrine ring to match your fall decor in those holiday pictures might be just what you need to give you a big gem boost.
Consider a deep green ring with a design to make your hands stand out. You can incorporate large gems into more than just rings, but this is always an easy way to get started.

Stars
There is a reason why we always look at the sky at night, and during the season where the days are shorter, there is more reason to look. Stars illuminate our nights and give off a sense of wonder. Bring this feeling into your everyday life with star jewelry. This season try on our star pendant for a dazzling effect.
Long Necklaces
For a casual-chic outfit, try this necklace to get in style. Long necklaces can elongate your neck while giving a bit of mystery to your look. This Kendra Scott necklace is classic but straightforward when you want to add some more bling to your look without feeling like you have to put on a gown.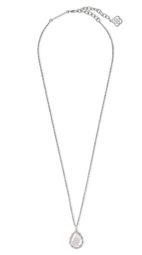 Layering necklaces has been a trend for a while, but to incorporate the long trend this season is to give yourself an extra style boost. With a big detailed pendant, this filigree mix Aiden necklace has just what you need to fall in love this season.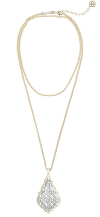 Fall trends are colorful and bold for those long nights and holiday-filled months. Shop with Whidby Jewelers for all these trends and more! Contact our jewelry store in Madison, GA, today for more information on how you can upgrade your style for fall.