Rain Promotion
Rain Promotion

"Let It Rain"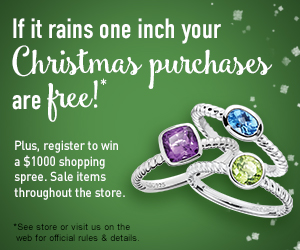 Holiday Promotion Rules
1. Any individual who makes a purchase ("Qualified Customer") between November 25, 2016 and December 24, 2016 (the "Qualified Sales Period") at Whidby Jewelers is entitled to a refund in the amount of the full purchase price, excluding sales tax, repair and delivery charges (a "Refund"), if it rains one inch (1") or more at the Ben Epps Airport in Athens, GA on January 1, 2017 between the insured hours of 12:01 pm (noon) and 11:59 pm (midnight) (12 hrs).
2. You must be a Qualified Customer to be eligible to receive a refund. To be eligible, individuals must make a purchase from Whidby Jewelers during the Qualified Sales Period, PAID IN FULL, and currently be in possession (returned items are ineligible) of the merchandise purchased on or before December 24, 2016. Layaways and Special Orders must be picked up during this period as well.
3. The rain accumulation will be measured by ­the closest National Weather Station which is the Ben Epps Airport in Athens, GA. The official report provided by National Weather Station will be the exclusive weather data relied upon in verifying rain accumulation and determining refunds to be made. Its determination is final.
4 Whidby Jewelers will be in a position to confirm rain accumulations to qualified customers once verified by the National Climatic Data Center. Posting of this official rain reading will be placed on Whidby Jewelers' website at www.whidbyjewelers.com.
5. Refunds will be made to persons with qualifying sales transactions. Refunds will be made within sixty (60) days after the weather recording date.
6. In order to receive a refund, the following procedure must be strictly followed:
O The original sales receipt must be presented along with a form of picture identification at the time a Refund is requested.
O Refunds will be given only to the original purchaser at the store at which the purchase was made.
O All Refunds must be claimed by March 31, 2017. Claims made after that date will be void and not honored.
If for any reason, the above "Refund" procedure is not followed, a Refund will not be granted.
7. Purchases made inside of the Qualified Sales Period, all sales tax, delivery charges, appraisals, and repair of jewelry are not eligible for refund.
8. Whidby Jewelers reserves the right to discontinue this promotion at any time, without notice, but will honor those purchases made prior to the cancellation of the promotion.
9. Employees of Whidby Jewelers and their suppliers are not eligible to participate in this promotion.
10. No purchase is necessary. You may also enter this promotion by filling out an entry form in its entirety for a shopping spree in the value of $1,000. If rain occurs on January 1, 2017, as defined in Rule #1 above, one entry from Whidby Jewelers' location will be randomly selected from all entries to win a $1,000 Gift Certificate at Whidby Jewelers.
11. Repair charges and other services are not eligible for this promotion.
12. You will be notified via email if the rain amount reaches one inch and a REFUND is due to you. Therefore, it is required that Whidby Jewelers have your email address for notification.